THE AEVAL GIVES THE SEAL "LEVEL OF EXCELLENCE EVAM 200 - 299 DIRECTION "PROVINCIAL SEPE IN CIUDAD REAL
16March2016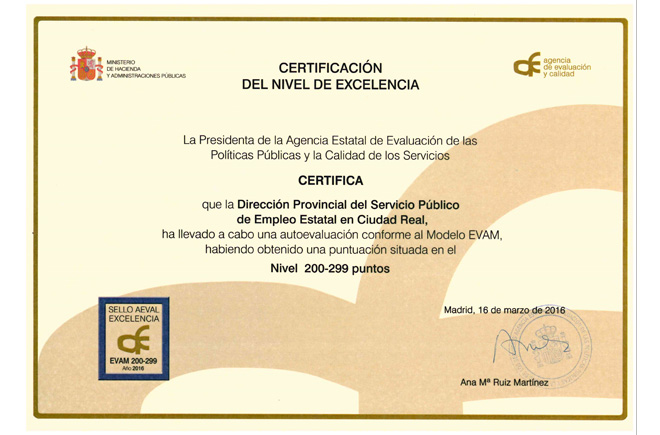 AEVAL Seal "EVAM Level of Excellence 200-299" to the Provincial Directorate of the SEPE in Ciudad Real
The State Agency of evaluation of public policies and quality of services (AEVAL) has recognized once more attention and dedication to public service state employment (SEPE) provides to its users and the quality of its services.
On this occasion, the AEVAL granted 16 March 2016 the Provincial SEPE Direction in the Ciudad Real Seal of Excellence EVAM 200-299 in recognition of the improvement actions implemented as a result of the assessment according to the model EVAM of excellence in 2014, which obtained a score located in the level 200-299 points, and to the valuation of improvements implanted in 2015 starting this diagnosis.
The Direction Provincial SEPE in Ciudad Real started the implementation of a quality management system in 2008, the year in which conducted NCSA EFQM model, which served him starting point for planning the improvement projects whose results have led to overcome the 200 points in the evaluation EVAM.